Transform your business with up-to-the-minute industry insights
Every year, we publish a series of technology-specific salary surveys. This includes editions on AWS, Salesforce, NetSuite, ServiceNow, Microsoft Azure, and Dynamics.
Based on hundreds of thousands of data points and self-reported data from thousands of professionals worldwide, our reports provide the most objective snapshot into salaries, market trends, and developments across the global tech community. We delve into topical issues impacting the IT industry, from sought-after skill sets and qualifications, to job satisfaction, work-life balance, and diversity and inclusion. Thought leaders in the tech space, vendors, and top influencers also contribute their insights and share our findings with their communities.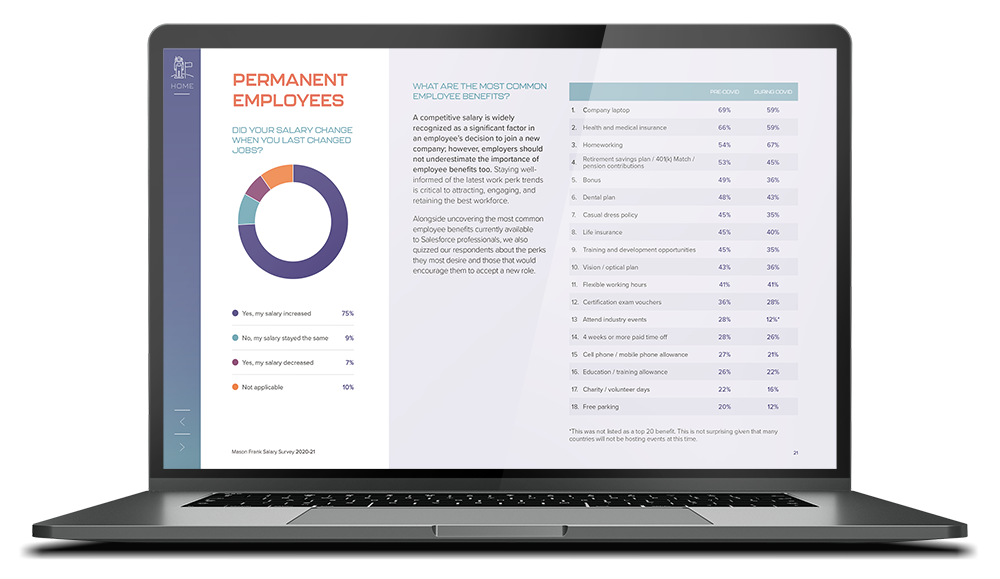 Our reports are regarded as a credible and much-valued tool read by thousands of professionals, decision-makers, and top-level executives working for partners, end-users, and ISVs of all sizes, and that's why they're the go-to publications for unique hiring trends and insights.
Guide your decisions with worldwide salary data
Inside each publication, we profile salaries across a number of key roles, split by region, and this helps professionals discover their market value and identify how they can increase their earnings.
For organizations, this data is crucial in helping them to benchmark the salaries they offer their workforce. This ensures they are competitive in the marketplace, attract and retain the best talent, plan their internal resources more effectively, and futureproof their budgets.
Our salary data and career spotlights also inform hiring managers on how to develop job specifications that best fit their business needs and tackle any skills shortages within their organization.
Plus, with role or country-specific information available on request, as well as our consultants' niche expertise, we can help businesses tailor their hiring strategy to their local market.
Delve deeper into your hiring needs and start a conversation with us today.